Fit Blend
Referred to South America's "drink of the gods". Yerba mate tea leaves are a clean energy powerhouse loaded with antioxidants, vitamins, and minerals known for having powerful thermogenic effects that help boost your body's calorie burning mechanism. We source our unsmoked yerba mate from a four-generation organic family farm in Misiones, Argentina. 
This traditional Chinese tea is rich in powerful antioxidants called catechins known to help increase energy expenditure (boost metabolism) and block the absorption of fats and carbs. 
Consuming oolong tea can actually signal to your body to burn fat to be used for energy.
Caralluma is an ancient edible cactus, used by tribal Indians to reduce hunger and increase endurance.
Ginger has been used for thousands of years to help prevent inflammation and indigestion. It's considered one of the best detoxifying herbs as it helps cleanse the buildup of waste and toxins in your colon, liver, and other organs.
Plant-Based Phyto Blend
Biotin, otherwise known as vitamin b7 plays a key role in the body's manufacture of carboxylase enzymes, which regulate the healthy growth and appearance of hair follicles and skin. Biotin promotes healthy cell growth and aids in the metabolism of protein-building amino acids that are essential for nail growth.
Champagne grape seed extract
Clinically proven to have a positive effect on skin cells and exclusively obtained with French grapes from Champagne. These grapes have a high concentration in flavanol monomers to promote primary antioxidant activity to protect collagen fibers from degrading.
Rich in highly bioavailable polyphenols, and bioactive SuperOxide Dismutase (SOD), melon extract's beneficial effects on skin, have been reported in more than 40 scientific publications.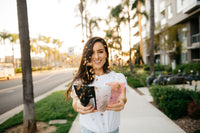 Best Damn Granola™
Our unique granolas embody the concept that your most powerful self, body, & mind start with the foods you eat. LÜME granolas are gluten free, plant-based, & contain zero refined sugar.
Infused with vitamins, herbs, & adaptogens to elevate your well-being.
Delicous AF. Plant powered addictiveness. 🤤
Customer Reviews
09/06/2022
Tammy L.

United States
Love Love Love LUME
Super excited when I saw my favorite LUME Granola in 8 oz bags at the Farmers Market La Jolla! I stocked up! I have all 3 flavors in big 8 oz bags for my home and get the little bags for on the go and sharing. The flavors & health benefits are amazing for all 3 flavors! Thank you LUME Team!
Great for the morning or a road snack!
I came across LUME from a friend during a gut reset and the granola was so great. I have continued my subscription. This is a great addition to any breakfast yogurt or fruit bowl! Also I am huge snacker and I love that I have great healthy options for road trips as well! You guys are great and I love the notes and packaging!
Easy way to get biotin
I've been looking for an alternative option to get my biotin and I've found it! The lavender Glow tastes incredible and it's healthy! Highly recommend.
This should be a staple in your life
This is honestly the best granola I've ever tried. It is perfect as an on-the-go snack, as a cereal with milk, or on top of yogurt. I keep a pack in my purse and in my yoga bag whenever I go out just in case I get hungry and there aren't healthy options around me. The fact that this granola has so many health benefits is the cherry on top. I spend so much $$$ on supplements and all of the LUME granolas have changed the way I buy supplements. I'd rather eat my vitamins and supplements in a delicious granola, ya know? I can't recommend this product enough. It's so f@&$ing good and so healthy.
Healthiest tasting granola
LUME is the healthiest tasting granola without a doubt. I've tried tons of brands and most taste extremely dry and have artificial undertones but you can honestly tell the difference with this brand. It tastes REAL. I don't know why that should be uncommon but it's truly a step above the rest. Also, they sometimes host giveaways on their instagram so keep a look out to potentially win some. Either way highly impressed with this!