Plant-Based Phyto Blend
Biotin, otherwise known as vitamin b7 plays a key role in the body's manufacture of carboxylase enzymes, which regulate the healthy growth and appearance of hair follicles and skin. Biotin promotes healthy cell growth and aids in the metabolism of protein-building amino acids that are essential for nail growth.
Champagne grape seed extract
Clinically proven to have a positive effect on skin cells and exclusively obtained with French grapes from Champagne. These grapes have a high concentration in flavanol monomers to promote primary antioxidant activity to protect collagen fibers from degrading.
Rich in highly bioavailable polyphenols, and bioactive SuperOxide Dismutase (SOD), melon extract's beneficial effects on skin, have been reported in more than 40 scientific publications.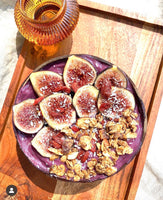 radiate from within.
Our unique granola embodies the concept that a radiant body & mind starts with the foods we eat. Glow granola is infused with a plant-based Phyto Youth Blend, containing unique ingredients to support skin radiance.
No refined oils or sugars, no cheap fillers like crisped rice & no artificial ingredients.
Delicous AF. Plant powered addicitveness.
"LÜME makes it SO easy to get your daily dose of energy & beauty benefits in an on-the-go snack. LOVE!!"

Tate Leigh
"My hardest battle of the day is figuring out which Lume flavor to choose!!" - "LUME is the new granola we all NEEDED"

Nicole Baqai - EXTRA
"Absolutely love this! It's great for on the go snack with lots of nutrients and vitamins. I'll for sure keep ordering on a monthly basis."

Oveth Martinez
"Seriously the best granola I've ever had. I won't ever eat another kind of granola."

Julia Personeni
From the Packaging to the hand written thank you note to the taste ingredients and quality ingredients, LÜME granola is amazing!!!
I'm hooked! All my clients will be getting the trio package as gifts from me!

♥️♥️@thefitgreengoddess