Herbal Blend
Referred to South America's "drink of the gods". Yerba mate tea leaves are a clean energy powerhouse loaded with antioxidants, vitamins, and minerals known for having powerful thermogenic effects that help boost your body's calorie burning mechanism. We source our unsmoked yerba mate from a four-generation organic family farm in Misiones, Argentina. 
Ginger has been used for thousands of years to help prevent inflammation and indigestion. It's considered one of the best detoxifying herbs as it helps cleanse the buildup of waste and toxins in your colon, liver, and other organs.
plant-based energy 💥
Boost your day with our unique, herbal infused gluten-free granola. Blended with yerba mate for clean, natural energy.
No refined oils or sugars, no cheap fillers like crisped rice & no artificial ingredients.
Delicous AF. Plant powered addicitveness.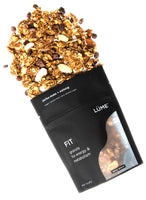 "LÜME makes it SO easy to get your daily dose of energy & beauty benefits in an on-the-go snack. LOVE!!"

Tate Leigh
"My hardest battle of the day is figuring out which Lume flavor to choose!!" - "LUME is the new granola we all NEEDED"

Nicole Baqai - EXTRA
"Absolutely love this! It's great for on the go snack with lots of nutrients and vitamins. I'll for sure keep ordering on a monthly basis."

Oveth Martinez
"Seriously the best granola I've ever had. I won't ever eat another kind of granola."

Julia Personeni
From the Packaging to the hand written thank you note to the taste ingredients and quality ingredients, LÜME granola is amazing!!!
I'm hooked! All my clients will be getting the trio package as gifts from me!

♥️♥️@thefitgreengoddess