Herbal Blend
Referred to South America's "drink of the gods". Yerba mate tea leaves are a clean energy powerhouse loaded with antioxidants, vitamins, and minerals known for having powerful thermogenic effects that help boost your body's calorie burning mechanism. We source our unsmoked yerba mate from a four-generation organic family farm in Misiones, Argentina.
Ginger has been used for thousands of years to help prevent inflammation and indigestion. It's considered one of the best detoxifying herbs as it helps cleanse the buildup of waste and toxins in your colon, liver, and other organs.
Plant-Based Phyto Blend
Biotin, otherwise known as vitamin b7 plays a key role in the body's manufacture of carboxylase enzymes, which regulate the healthy growth and appearance of hair follicles and skin. Biotin promotes healthy cell growth and aids in the metabolism of protein-building amino acids that are essential for nail growth.
Champagne grape seed extract
Clinically proven to have a positive effect on skin cells and exclusively obtained with French grapes from Champagne. These grapes have a high concentration in flavanol monomers to promote primary antioxidant activity to protect collagen fibers from degrading.
Rich in highly bioavailable polyphenols, and bioactive SuperOxide Dismutase (SOD), melon extract's beneficial effects on skin, have been reported in more than 40 scientific publications.
Vitamin C's antioxidant properties reduce the formation of free radicals to minimize their effect on our body. By slowing the rate of free radicals, it helps to slow the aging process by keeping wrinkles, dryness and fine lines at bay.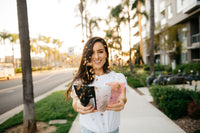 Best Damn Granola™
Our unique granolas embody the concept that your most powerful self, body, & mind start with the foods you eat. LÜME granolas are gluten free, plant-based, & contain zero refined sugar.
Infused with vitamins, herbs, & adaptogens to elevate your well-being.
No refined oils or sugars, no cheap fillers like crisped rice, or artificial ingredients.
Delicious AF. Plant powered addictiveness. 🤤