Glow Blend
Thanks to the unique benefits of biotin, you can help enhance the growth and health of thick luscious hair and healthy nails. Biotin deficiencies are linked to hair loss, brittle nails, splitting hair, and dry, irritated skin especially for those who have poor diets.
As your body ages, your skin begins to lose its elasticity as a result of decreased collagen production. Increasing collagen levels can help your skin look firmer, increase smoothness, and help renew and repair skin cells in addition to reducing cellulite and stretch marks. 
We use high quality marine collagen as opposed to bovine (beef) or poultry (chicken) due to its superior bioavailability (amount that your body actually digests and absorbs).
Pearl Powder is actually derived from real, freshwater pearls & contains 18 amino acids.
Studies have shown pearl powder to enhance (SOD), super-oxide dismutase, one of the most potent amino acids found in your body, known to reduce pigmentation, wrinkles, and age spots to promote glowing, firm, and smooth skin.
Aloe has been used for skin ailments since ancient times. It ensures better nutrient absorption and is known mostly for the natural healing of skin.
The adaptogenic properties of this plant are beneficial for proper digestive function.
Fit Blend
Referred to South America's "drink of the gods". Yerba mate tea leaves are a clean energy powerhouse loaded with antioxidants, vitamins, and minerals known for having powerful thermogenic effects that help boost your body's calorie burning mechanism. We source our unsmoked yerba mate from a four-generation organic family farm in Misiones, Argentina. 
This traditional Chinese tea is rich in powerful antioxidants called catechins known to help increase energy expenditure (boost metabolism) and block the absorption of fats and carbs. 
Consuming oolong tea can actually signal to your body to burn fat to be used for energy.
Caralluma is an ancient edible cactus, used by tribal Indians to reduce hunger and increase endurance.
Ginger has been used for thousands of years to help prevent inflammation and indigestion. It's considered one of the best detoxifying herbs as it helps cleanse the buildup of waste and toxins in your colon, liver, and other organs.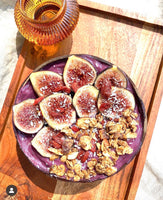 radiate from within.
Our unique granola embodies the concept that a radiant body & mind starts with the foods we eat. Glow granola is infused with a plant-based Phyto Youth Blend, containing unique ingredients to support skin radiance.
No refined oils or sugars, no cheap fillers like crisped rice & no artificial ingredients.
Delicous AF. Plant powered addicitveness.
"LÜME makes it SO easy to get your daily dose of energy & beauty benefits in an on-the-go snack. LOVE!!"

Tate Leigh
"My hardest battle of the day is figuring out which Lume flavor to choose!!" - "LUME is the new granola we all NEEDED"

Nicole Baqai - EXTRA
"Absolutely love this! It's great for on the go snack with lots of nutrients and vitamins. I'll for sure keep ordering on a monthly basis."

Oveth Martinez
"Seriously the best granola I've ever had. I won't ever eat another kind of granola."

Julia Personeni
From the Packaging to the hand written thank you note to the taste ingredients and quality ingredients, LÜME granola is amazing!!!
I'm hooked! All my clients will be getting the trio package as gifts from me!

♥️♥️@thefitgreengoddess